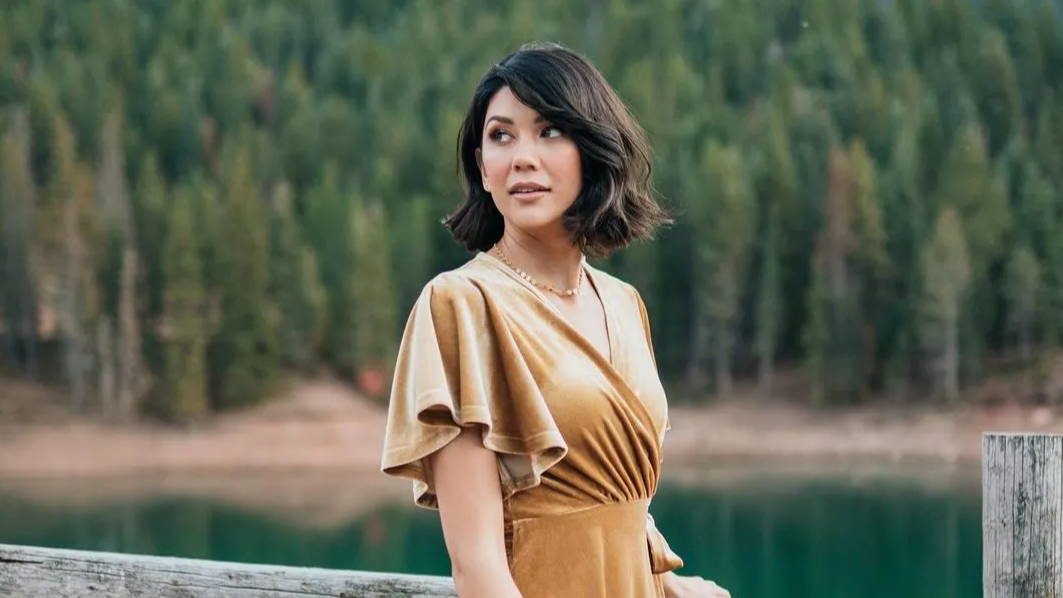 ---
Weddings happen pretty much every weekend of the year, which means there's a lot of room for different fashion choices in terms of color, style, material, and more. Whether you're aware of the big event months in advance or have to snag something off the rack a few days – or hours – in advance, we'll help point you in the right direction so you don't accidentally make a fashion faux pas.
Plus, you can use any of this outfit inspiration for events outside a wedding. Think job interviews, holiday parties, random photoshoots, etc. But for now, let's talk about what to wear to a wedding!
What to Wear to a Summer Wedding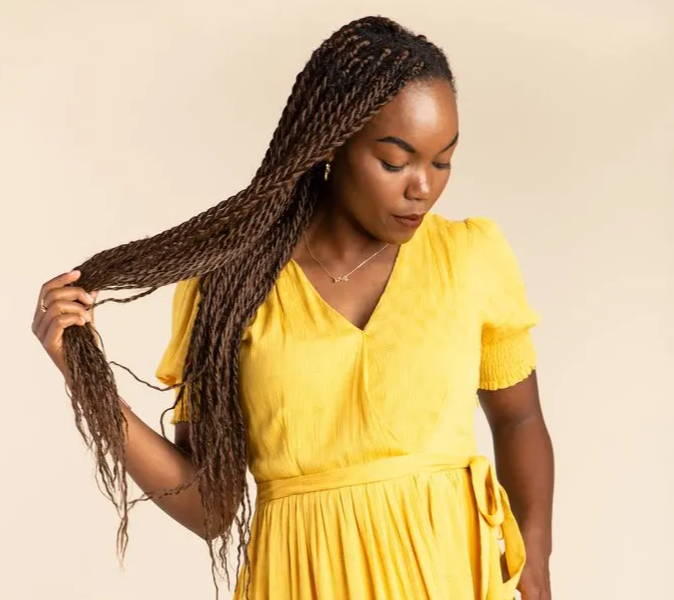 Summer weddings are fun and flexible, as you can have them indoors or outdoors at pretty much any time of day. The thing about summer, though, is that it's often hot, sunny, and depending on where you live, humid, dry, or something in between. And, you never really know if the wedding you're attending is 100% inside, 100% outside, or a hybrid between the two, so you often have to come more prepared than you'd like to. Whether the wedding is in a church, garden, barn, or rooftop, we've got some ideas and inspo for you to be prepared and comfortable no matter the venue.
Summer Wedding Guest Dresses, Trends, Colors, and Accessories
Since some things are likely to be outdoors – be that pictures, ceremonies, or receptions – you'll want to keep it light. Think airy fabrics, light colors, and perhaps a paper fan or some source of shade (like an umbrella or a nice hat).
You can really do any color in the summer, but many stick to lighter shades, pastels, or even bright hues. Long and short wedding guest dress styles work in the summer (especially if you pick the right material), so it's the time to have fun with what you wear! Prints, patterns, baubles, and belts are all fair game and don't even get us started on the shoes.
Oh, fine. We'll talk about shoes.
Hopefully this is a given, but the only thing you probably want to stay away from are furry, winter boots because nobody wants warm, sweaty feet for hours on end when it's already 90+ degrees outside. Other than that, you can wear any kind of shoe – from sandals or heels to flats or wedges...the list goes on. Basically, if the shoe fits, wear it. If it goes with your outfit or your style, rock it.
What to Wear to a Fall Wedding
Everyone wants a fall wedding, right? Well, maybe not everyone, but fall weddings are just as fun and frequent as summer events. Think toasty Thanksgiving colors like neutrals, browns, mustard yellow, forest green, maroons, blacks, greys, golds, rusts, or perhaps a nice pop of deep blue or purple. Basically, you want to embody a cinnamon roll or a pumpkin spice latte in your color choices, right? Fall is when things probably lean a bit more indoor than outdoor, but just in case, you'll want layers. Be sure to carry a cute shawl, overcoat, or wrap with you.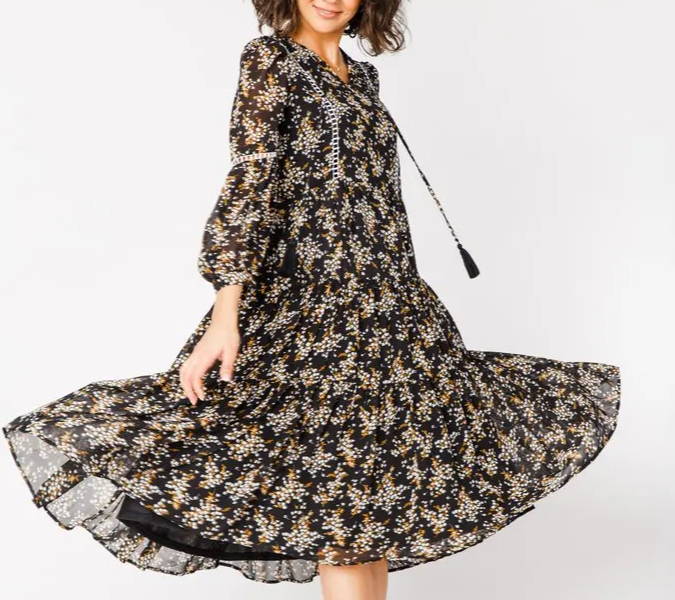 Fall Wedding Guest Dresses, Trends, Colors, and Acessories
Because fall (and spring, for that matter) are perfect transitory seasons where you could have a wonderfully warm day, or a crisp, chilly one, pretty much any fabric is fair game, depending on the week. For instance, in late summer/early fall, you might opt for a lighter material, like chiffon or silk, and then bring a light coat or wrap just in case. If it's late fall/early winter, you might want to wear something heavier, like velvet, chenille, or suede. Long and short styles work well here, so it's really your choice.
As for the accessories, who doesn't love a cute wool fedora? A good accent piece like this will help you seamlessly transition your look from summer to fall, and then to winter.
Moving onto the legs. Tights or ankle socks paired with booties not only keep you warm, but they can sell a look. As for shoes, you might want to start putting your open-toed sandals or heels in storage, and stick to closed-toe shoes – whether you go with flats, heels, or a boot of some sort.
What to Wear to a Winter Wedding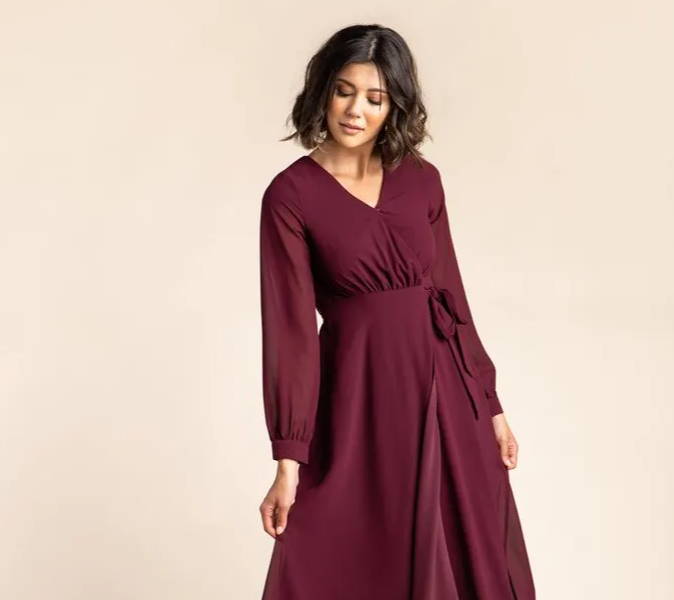 There's really nothing more magical than a winter wedding, especially if there's fresh, glittering snow under the twinkling lights. Winter weddings are cozy, often decked with warm fireplaces, candlelight, and jolly, holiday spirits all around. It's also a fun time when choosing what to wear to a wedding because you can layer up 'til your heart's content – and no, we're not talking about the frumpy layering that will turn you into a marshmallow. We're thinking more of a Gatsby-esque trendsetter. Something with a little flair, without taking away from the beautiful bride and groom, of course.
Winter Wedding Guest Dresses, Trends, Colors, and Accessories
Who said you can't wear a black wedding dress? In the winter, it's such a stunning, simple color that just works. But, we also love the classic winter hues. Think jewel tones like emerald, amethyst, sapphire, ruby, or maybe holiday tones like gold, silver, red, or dark green. As for fit, sleeved gowns are stunning in the winter (and functional due to the cool temps). Plus, sleeves can be fun! Take advantage of the long-sleeve season. Flutter sleeves? Petal sleeves? A one-shoulder, flouncy sleeve? Bell sleeves? Those types of sleeves that achieve a cape-like look? The sky's the limit.
Closed-toe shoes are still a must (who wants frozen toes walking through snow to the venue?), but now you might want to think about waterproofing your dressy shoes, just in case. Then, your shoes can stay in good condition regardless of the terrain you have to trudge through.
Moving to other accent pieces. Winter is the time to really amp up the accessories. We're thinking a good peacoat, a fur wrap, statement jewelry, knit tights, headbands, bejeweled clips, etc. Don't go overboard, however, this is the bride's day, after all.
What to Wear to a Spring Wedding
Wedding season tends to be in the spring/early summer, so you'll likely have the most events pop up around then. Maybe it's the fact that spring is a time of rebirth and renewal, but the blossoming foliage, glowing rays of sunshine, and warm breezes are just heaven-sent. Now is when things tend to go back outdoors in gardens, parks, backyards, you name it. Boutiques tend to carry things with cute springy accents – whether that's a tasteful floral print, a simple embroidery, or anything else that just screams spring. All in all, you'll have plenty to choose from for your upcoming spring wedding.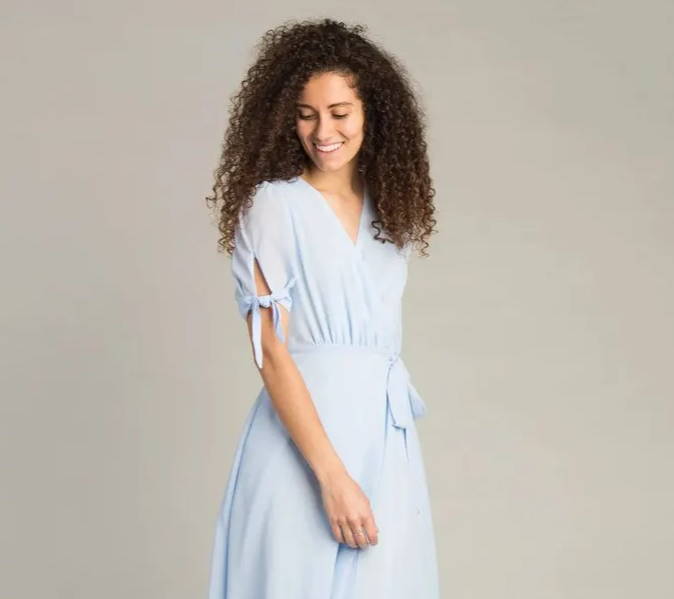 Oh, and it's finally time for flowy fits and breathable sandals to come back to life!
Spring Wedding Guest Dresses, Trends, Colors, and Accessories
Spring tends to get everyone excited, especially when you live somewhere where winter lasts a little longer than you'd like. It's always fun to go outside without boots or bundling up, and that's where our spring fashion inspiration comes from. It's time for open-toed footwear to have its moment again, so don't forget that pedicure! Shoes can easily be an accent piece if you want them to be. Beaded sandals in spring? Not exactly groundbreaking, but still super cute! After hibernating all winter, it's also time to break out the short spring wedding guest dress, if you'd like. Maxi and midi dresses still work in the spring, of course, but we're all for shorter length when the season allows it!
In the spring, any color is fair game for the same reason that fall tends to be a transitory season. If it's early spring, you might want to stick to colors that are more "winter," and if it's closer to summer, you might opt for a hue that's lighter or brighter.
Spring hats are always fun and sassy, whether it's a floppy sunhat, a small straw hat, or maybe just a hair clip. Of course, you don't have to do anything special to your hair at all if that's not your thing, but spring is a perfect season to play with new styles and pieces.
What NOT to Wear to a Wedding + Other Tips
Unless someone specifically requests the utmost casual attire (like a t-shirt, jeans, and sneakers), this look is typically not appropriate. The same applies to the color white. Nobody wants to upstage or distract from the woman in white herself, so if you're even thinking about it, maybe don't. Or, if you think the invite asks for it, double-check with someone in the wedding party.
You should also avoid any...shall we say...revealing pieces. There's a time and place for showing skin, and that isn't at your friend's, coworker's, or family member's wedding. We aren't saying you have to go all matronly on the crowd, but just be intentional with what you're wearing, and always remember why you're wearing it and where you're going.
Finally, you likely don't want to be wearing something uncomfortable in any way. Readjusting is annoying as is, let alone at a lengthy event. You'll also want to avoid brand new shoes or obvious reasons. We know you aren't about to roll up in PJs or in your most comfortable attire, but it's best to keep it as comfy as possible.
Called to Surf Is Your One-Stop Shop for All Things Wedding
If you're looking for a wedding guest dress, an accessory, or even a gift, we've got you covered. No matter what role you have in your upcoming wedding event – be that a guest, a family member, or a member of the bridal party, we've got everything you might want in different styles, colors, fits, and price ranges for every season! Deciding what to wear to a wedding has never been easier.